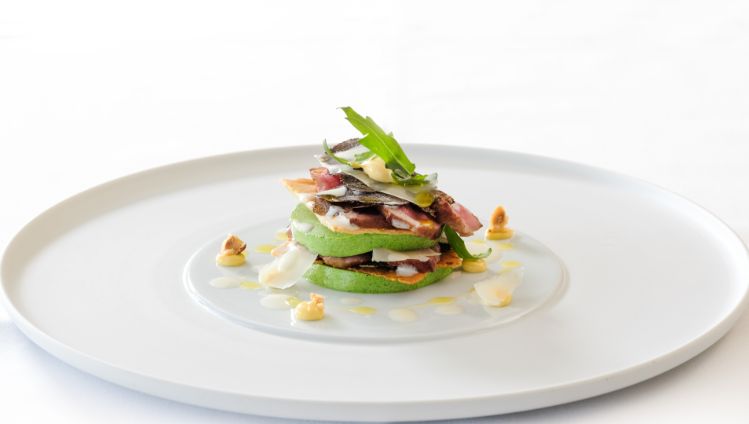 Tagliata with rocket and truffle
A vision of Italy on your plate! Rocket flan, a sablé biscuit made with Piedmont hazelnuts, and a delicately spiced entrecôte. The sauce, made from black truffle and «Der edle Maxx 365» cheese, is endlessly indulgent. When presented as an eye-catching mini tower, this dish from Christian Kuchler steals the limelight visually as well!
Ingredients
serves 6 Personen
Rocket flan

150 g

rocket

50 ml

chicken stock

2 sheets

gelatin

25 g

«Der edle Maxx 365»

100 ml

whipped cream

salt, pepper
Sablé

75 g

soft butter

20 g

sugar

20 g

egg white

125 g

white flour

40 g

Piedmont hazelnuts, chopped

5 g

salt
Dressing

100 ml

full-fat cream (35%)

25 g

«Der edle Maxx 365»

15 g

black truffle

pinch of salt
Tagliata

200 g

trimmed entrecôte, from the center cut

salt, pepper
Truffle mayonnaise

1 piece(s)

egg yolk

1 tsp.

egg yolk

50 ml

sunflower oil

50 ml

truffle oil

1 tsp.

vinegar

salt, pepper
Preparation
Rocket flan

Blanch the rocket for approx. two minutes. Next, place in the mixer and mix until it forms a fine puree. Sieve the mixture and set to one side.

Combine the steeped gelatin with "Der edle Maxx 365" cheese and the hot chicken stock and mix.

Pass the mixture through a sieve, mix with the rocket puree and leave to cool. Just before the mixture sets, carefully fold in the whipped cream.

Leave to set on a flat tray in the fridge.

Sablé

Combine the sugar, butter, and egg white. Add the flour and nuts. Roll the mixture into little balls and place on a baking tray.

Bake on the middle shelf of the oven for ten minutes at 180°C.

Then leave to cool and break into sheets.

Sauce

Heat the cream before adding "Der edle Maxx 365" cheese and the truffle.

Stir the mixture, then season with salt and pass through a sieve.

Tagliata

Season the entrecôte with salt and pepper.

Quick-fry on both sides at a high heat.

Next, bake on the middle shelf of the oven for six minutes at 150°C.

Switch off the oven and leave the door ajar.

Carve the entrecôte into thin slices.

Truffle mayonnaise

Put the egg yolk, mustard, vinegar, salt, and pepper into a bowl.

Then combine with the oils to form an homogeneous mixture.

To serve

Cut out circles of the rocket flan and lay on a flat plate.

Place the sablé on the flan.

Top this with one to two discs of tagliata.

Drizzle over a little of the "Der edle Maxx 365" sauce.

Repeat the process until you have a beautiful mini tower.

Garnish with a couple of fresh rocket leaves and a few spots of truffle mayo.