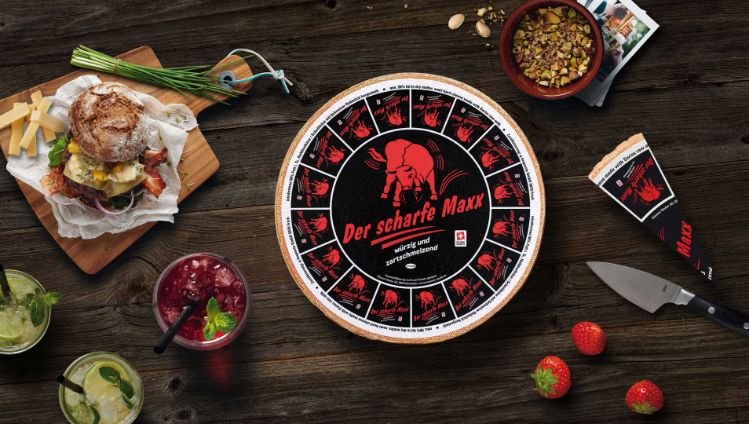 Cheese dishes and recipe ideas featuring «Der scharfe Maxx»
Charming, spirited, versatile – that's «Der scharfe Maxx». A cheese that can be both full-flavored and delicate at the same time. Don't just serve any old cheese – surprise your guests with a very special cheese dish. In our recipe collection you'll find imaginative ideas for how to prepare tasty dishes with «Der scharfe Maxx» that guarantee exceptional culinary results. «Der scharfe Maxx» gives your favorite cheese recipes that certain something. Cheese recipes featuring «Der scharfe Maxx» are quick and easy to prepare, but your guests will be raving about them for a long time to come.
The vast majority of the recipes in our database come from the endless creativity of Michelin-starred chef Christian Kuchler, who is based in Thurgau. He uses the best ingredients, fresh ideas, and his skillful touch to create a range of fantastic cheese recipes for us that not only look tempting but taste it, too. So, why not go on a recipe hunt and browse to your heart's content through our suggestions for main meals, canapes, and tasty snacks that revolve around cheese.
Quick and tasty cheese recipes
How do you turn a very normal occasion into a wonderfully special highlight you'll remember for a long time to come? By inviting a special guest. «Der scharfe Maxx» is just this type of guest. Studer cheesemakers' specialty cheese has an unmistakable character – cheeky, rebellious and bold, yet devastatingly charming. This is a cheese that might have a sharp personality but is packed with melt-in-the-mouth, creamy flavor – not forgetting its unique tanginess, which elevates it above other varieties of cheese. What's more, its taste and character make it the ideal variety for creating imaginative recipes using cheese. Whether it's for classic dishes, experiments in fusion cuisine, imaginative fondue recipes, or tempting snacks, «Der scharfe Maxx» is the sort of cheese that goes with anything.
Maxxing out on the local vibe
«Der scharfe Maxx» is produced in the traditional dairy belonging to Studer cheesemakers, which is situated in Hefenhofen in the Thurgau region of Switzerland. The team's decades of experience and expertise ensures consistently impressive quality. Likewise, long-standing partnerships with regional milk producers guarantee absolute freshness and short transport routes. To create our cheese recipes, Michelin-starred chef Christian Kuchler starts with the finest-quality ingredients and makes sure the recipe ideas are easy to make at home as well. He also aims to create recipes that are quick to prepare. It's well-known that «Der scharfe Maxx» takes five months to mature and develop its perfect degree of ripeness; it even takes "Der edle Maxx 365" an entire year. You don't want to keep your guests waiting, though – you want to take them on a flavor-packed culinary journey straightaway.