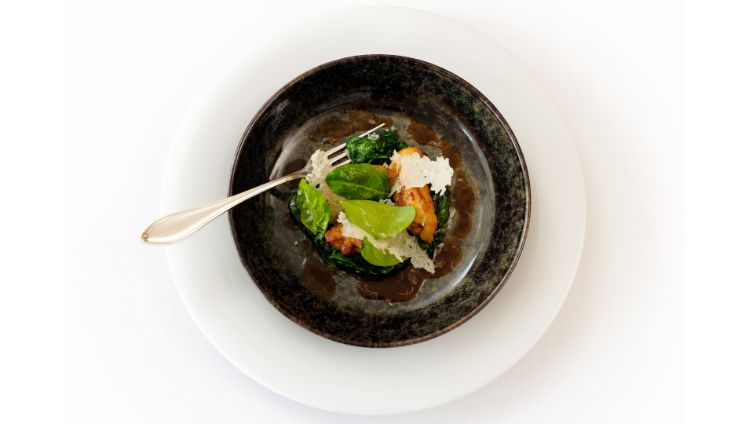 Sweetbreads with spinach
Offal is making a delicious comeback! Sweetbreads are seen as a delicacy and have an exquisitely subtle flavor. In our recipe, created by Thurgau-based, Michelin-starred chef Christian Kuchler, sweetbreads are paired with spinach and the tangy nuttiness of our «Der scharfe Maxx» cheese. Fire up the taste to the max for a special occasion!
Sweetbreads

1 kg

sweetbreads, thoroughly soaked

1 piece(s)

onion

1 piece(s)

stem leek

1 piece(s)

carrot from the Palatinate region

1 piece(s)

celeriac

1 bottle

white wine

salt, peppercorns

100 g

butter

100 g

flour

1 branch(es)

rosemary

1 piece(s)

garlic clove
Spinach

150 g

baby spinach, washed and picked

1 piece(s)

garlic clove

100 g

butter

1 pinch

salt

1 pinch

sugar
Chips

100 g

«Der scharfe Maxx»
Preparation
Sweetbreads

Chop the onion, leek, carrot, and celery into equal-sized pieces.

Thoroughly wash the sweetbreads before placing them into a high-sided pan with water, white wine, and salt, and bring to the boil. Important: The sweetbreads must be fully covered by the liquid.

Skim off the resulting foam with a ladle, then add the vegetables and peppercorns. Leave to simmer for one hour.

Next, remove the sweetbreads from the cooking liquid, cover, and place in the fridge overnight.

The next day, remove the sweetbreads from the fridge and rinse. That means removing the sinews and membrane.

Season the sweetbreads with salt and pepper. Dust with a little flour and fry in butter until golden brown.

Spinach

Heat the butter and garlic clove in a frying pan.

Add the spinach and let it start to wilt. Next, season with sugar and salt.

Drain the spinach briefly.

Chips

Flake 100g of "Der scharfe Maxx" cheese onto the baking parchment using a Microplane grater.

Grill for approx. two minutes on the middle shelf of the oven at 250°C.

Remove the baking tray and leave to cool.

To serve

Place the spinach on a plate. For optimal presentation arrange the spinach in a donut shape.

Place the golden-brown sweetbreads on top.

Layer the cheesy Maxx chips in between the sweetbreads. Garnish with two to three fresh spinach leaves. Grate over a little "Der scharfe Maxx" cheese using a Microplane fine grater.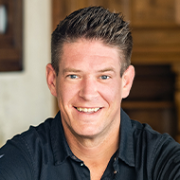 Marketing cookies necessary
Please accept the relevant cookie category to view this content