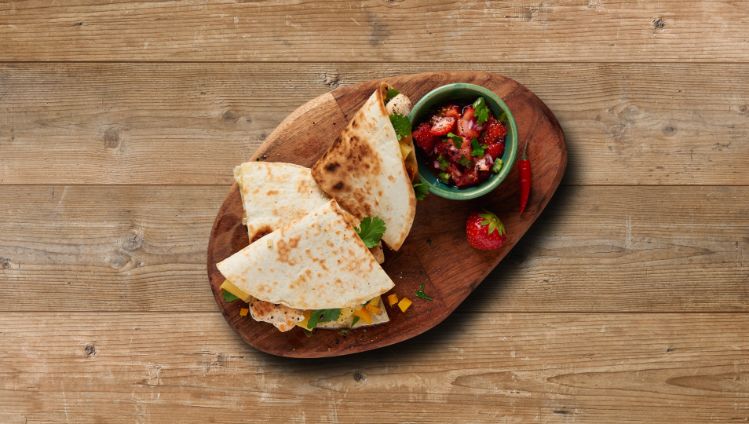 #Señor Maxx
Mexican tortillas
Hot and spicy tortillas meet «Der edle Maxx 365»: The unmistakable flavor of Mexico gets its own emphasis here. Muy bien!
Ingredients
Quesadillas

170 g

«Der edle Maxx 365», freshly grated

2 mug(s)

freshly cubed pineapple chunks

3 tbsp

coconut oil

1/8 tsp.

salt

1/8 tsp.

cinnamon

1/2

shallot

1

baby bell pepper, cored and sliced into cubes

1 piece(s)

chicken breast with the skin and bones removed, and then grilled and chopped

1/2 cup

freshly picked coriander leaves

2

tortillas
Salsa

1

medium-sized tomato, chopped

3/4 cup

chopped strawberries

1/4

red onion, finely chopped

1/2

Jalapeño pepper, cored, and finely chopped into cubes

1/3 cup

freshly picked coriander leaves

juice of 1 lime

1/4 tsp.

salt
Preparation
To prepare the salsa simply put all the ingredients into a bowl and carefully mix. The longer the sauce is left to marinade the more intense the flavors will be. It can be stored in the fridge for 2-3 days.

Add the pineapple, salt, and cinnamon to the pan and fry in 1 tbsp. of coconut oil for 6-8 minutes on a medium heat, stirring occasionally until golden brown.

Set the caramelized pieces of pineapple to one side and, in the same pan, heat the onions and jalapeño in 1 tbsp. of coconut oil and a pinch of salt.

After 3-5 minutes add the pineapple back in again.

Next, turn the heat down as low as it will go and add half a tablespoon of coconut oil to the pan.

Place the tortilla in the pan and sprinkle it with cheese. Take care to leave enough cheese for the second quesadilla.

Now build the tortilla with chicken, cheese, pineapple, shallots, pepper, and coriander, sprinkle again with cheese and fry until the tortilla turns golden brown.

Then turn and fry on the other side until golden brown – very carefully, so the ingredients do not fall out.

Prepare another quesadilla and serve with strawberry salsa.

Re-live that taste of holidays. Delicious!