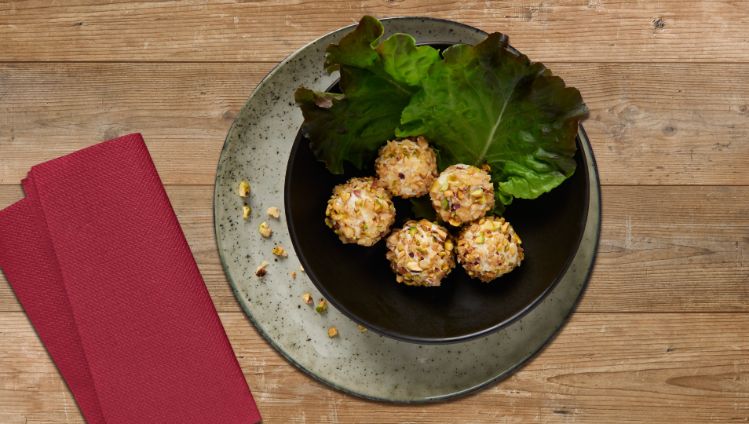 #maxx deluxe
Cheese truffles
Fancy a truffle with your coffee? These ones probably go better with a good glass of wine or a cocktail. Cheese truffles made with «Der scharfe Maxx» are an ultra-sophisticated delicacy.
Ingredients
serves 4 Personen
| | |
| --- | --- |
| 150 g | «Der scharfe Maxx» |
| 250 g | cream cheese |
| 1 tsp. | balsamic (white) |
| 1 tsp. | gin |
| per 40 g | pistachios and walnuts, chopped |
Preparation
First, finely grate "Der scharfe Maxx" cheese and stir into the cream cheese.

Now add 1 tsp. of balsamic vinegar and 1 tsp. gin to the mixture and, with moistened hands, form the mixture into balls.

Finally, dip half the balls into the chopped pistachios and the other half into the chopped walnuts.

Bon appétit.
Want to change it up a gear?
Instead of pistachios and walnuts try them with chopped dried apricots and flakes of dessicated coconut. What to pair them with: White port spritzer with tonic and lime.