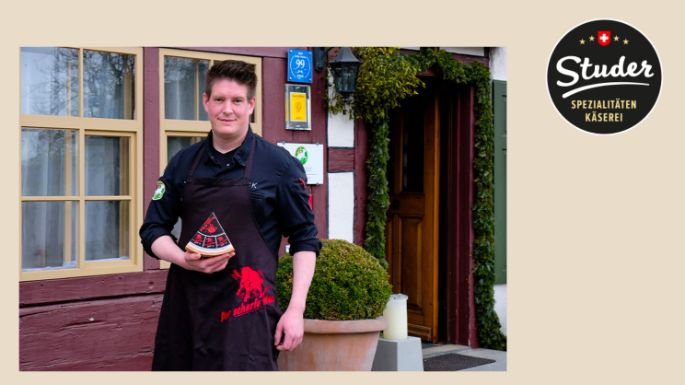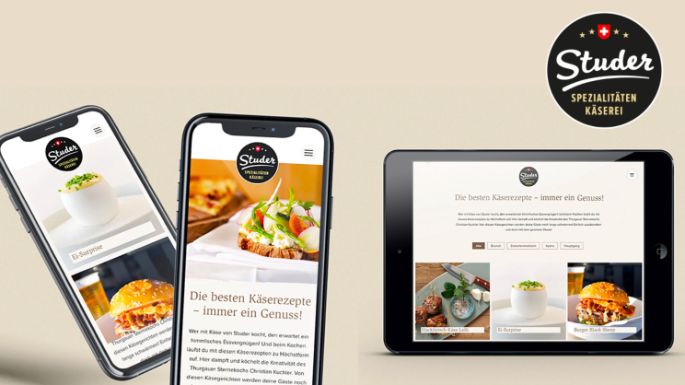 30.06.2020
Studer specialty cheesemakers joins forces with Michelin-starred chef Christian Kuchler. Kuchler has been inspired to create new cheese recipes exclusively for Studer.
Kuchler was awarded 18 Gault Millau points and two Michelin stars for his culinary skill at the Taverne zum Schäfli restaurant in Wigoltingen. He delights old and young with his "Black Sheep" food truck and shows how tempting down-to-earth cuisine can be.
Christian Kuchler reinvents cheese dishes
Christian Kuchler also likes to don his apron and create special moments of enjoyment. "Because I spend every day aiming for the perfect flavor, I know how much passion and dedication goes into making cheese at Studer! Like at our Taverne zum Schäfli, Studer specialty cheesemakers likewise combines the traditional and the modern with artisan expertise that's second to none!" says Christian Kuchler.
The best cheese recipes online
The "Kuchler cocktail" of culinary ideas is now online in Studer cheesemakers' new recipe database. The Michelin-starred chef uses the diverse range of cheeses crafted by Studer to create exceptional dishes and reinterpret the classics. Cheese aficionados will find easy-to-understand cooking instructions with illustrations in the recipe database. There's something for everyone, from dishes that are quick to make to elaborate recipe ideas and unusual pairings.
Contemporary website showcases the company's future-oriented vision – www.kaeserei-studer.ch